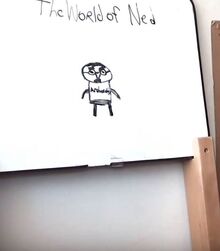 Seen in every nearly every video, The World of Ned wood stand is a stand Ned has standing behind him while he films his videos.
On the stand is a small whiteboard which has the words "THE WORLD OF NED" written on it with a small depiction of Ned underneath it.
The reasons it is used for could be a way of Ned watermarking his videos or letting viewers know it's an authentic Ned video.
Despite the stand being made out of Wood, Ned never seems to be allergic to it.